A couple weeks ago I started to have some pain in my right shin
. There were a couple spots. When I'd probe around with my fingers pressing on the bone was painful. It took me all of 5 seconds to stop running and get on the phone to make appointments with my most trusted medical adviser, Jeff Coverly of
Coverly Physical Therapy
. When I saw Jeff I was a mess and was certain I'd compromised my entire season, would not be running until the day of my next race, and quite possibly the world might end as a result.
One thing you need to understand about Jeff is that he is a miracle worker of sorts. Last season he treated me for a calf injury, a strained adductor magnus and another issue with my thigh. Each time I went in worried about the rest of my racing season and each time he was able to work out the problem and effectively treat it. Thanks to Jeff I missed maybe 2-3 days total of training last year due to injury.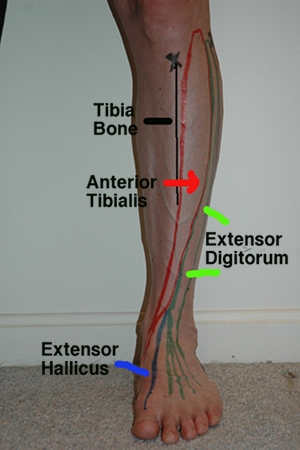 So anyway, as I said, I was sure I was mortally wounded and would probably be on crutches until the end of the season. Jeff started his investigation and after lots of questions and lots of poking and prodding, he announced that he thought I had injured the fascia of my anterior tibialis. What this really means is shin splints. I haven't had shin splints since I tried to run track in Converse All-Stars in junior high, so I'd forgotten about them. I also had some pain on the inside of the tibia, which he attributed to the same injury to the posterior tibialis. I had made an appointment with a highly regarded orthopedist,
Dr. Akuthota at the CU Center for Sports Medicine
and Jeff suggested I still go to see him as well. Dr. Akuthota had the same prognosis after x-rays and even prescribed the same exercises to strengthen the anterior tibialis.
I still have a couple follow-up visits to see Jeff but things are already feeling much better. I've gotten back on track running and yesterday's 12 miler presented no issues at all. Some hard tempo running last week went well also.
This is such a relief. I cannot overstate how happy I am about it. I'd been quite careful not to overdo my mileage buildup and to stay on top of my stretching and foam rolling. Having someone like Jeff, who is easily accessible and I can rely on for advice, is wonderful. Any time I've had an injury or suspect one I go to him first because he is that good. I'm grateful to have such an excellent resource. So by the end of this week I'll be back up to the same running volume I was pre-injury scare and be back on track for a great season!
Thanks, Jeff!